Demolition & Excavation
With over three decades of experience with demolitions, excavation, earthworks, and asbestos removal, we at Chomp Excavation & Demolition specialize in a range of services that requires meticulous care and precision and advanced expertise. If you are looking for the right professionals for your residential or commercial project in Little Bay, you have come to the right place. We have completed thousands of demolition and excavation Little Bay projects.
Explore the types of services we offer in the suburbs of Sydney.
Demolition
Our experience and regular training equip us with the right knowledge required to ensure a safe and streamlined process for residential and commercial Demolition Little Bay. We develop a custom plan for each project. The plan for your project will take into account your priorities, timeline, and budget.
We take care of the following as part of our service:
Taking care all the documentation and permits
Setting up safety barriers
Making arrangements with the owners of surrounding properties to product their assets
Checking for any harmful compounds, including asbestos
Conducting the Demolition Little Bay as per the Australian code and regulations
Clearing and disposing all the debris and rubbish following environment-friendly practices
House Demolition
We offer reliable and safe House Demolition Little Bay services for residential properties of all sizes and types. Efficiency and safety are important concerns for each one of our projects. At the same time, we ensure quick executions. Preventing damages to other surrounding structures is a crucial aspect of our service.
We offer the following services as part of our House Demolition Little Bay service include:
Asbestos removal
Hydraulic demolition
Debris removal
Foundation removal
Excavation & filling
Site clean-up
Garage deconstruction
If the project requires, we may also offer complicated services such as traffic control management and drainage removal.
Commercial Demolition
Our custom Commercial Demolition Little Bay services develop a unique plan and approach for each project. Some of the key features of our services include:
Consultation with client & understanding the unique preferences
Taking care of the safety of clients and there surrounding properties
Ensuring the demolition takes place on schedule
Use of advanced equipment for smooth, quick, and disruption-free demolitions
We cater to the Commercial Demolition Little Bay needs of different all types of commercial properties, including:
Business offices
Warehouses
Shopping centres
Factories
Apartment blocks
Hospitals
Multi-storey buildings
Hotels & restaurants
From clearing land to demolishing properties to removing debris to taking down a part of a property, we can take care of all scales of projects.
Excavation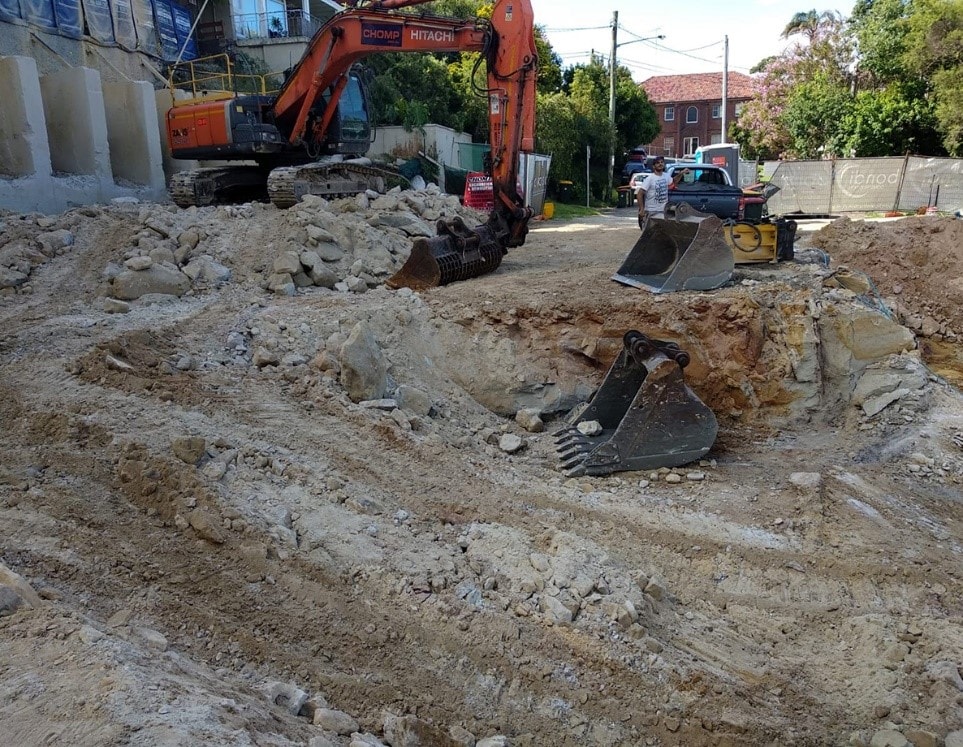 From removing structures to preparing your site for new construction to moving earth, our Excavation Little Bay services address all your unique needs. We have handled thousands of residential, commercial, and industrial excavations efficiently and safely over the decades. We provide different types of excavation services, including the following:
Land Clearing & Landfill: Do you need to clear a plot for new construction? Using the latest heavy excavation equipment we can move earth, take care of rocks and boulders, and level the ground for your project.
Tree Uprooting & Removal: We have the expertise and equipment for uprooting and removing large trees and plants and their root network to create a clear plot for your residential or commercial project.
Pool Removal: If you wish to remove your pools during the offseason, our pool removal and excavation services can help you make the most of your outdoor space.
Asbestos Removal
Asbestos, in any condition, requires professional and careful removal from your property. We have completed hundreds of asbestos and friable asbestos removal projects. Our certified and licensed professionals bring you peace of mind when we arrive on your property to take care of this material. Our Asbestos Removal Little Bay services cover all aspects of the removal process using proper gear and tools.
We remove:
Residential asbestos
Commercial asbestos
Asbestos walls
Asbestos ceilings & roofs
We also provide remediation for asbestos-contaminated soil and inspection services for your renovation projects.
Bulk Earthworks
Bulk earthwork is a type of project that requires professional handling. If your project requires leveling a site and achieving suitable height, we provide services for moving, removal, or addition of a large volume of soil and/or rock.
We handle all types of bulk earthworks, including:
Loose and free-flowing soil and sand
Gravel with clay
Wet and heavy clay, gravel with boulders, and broken rock
Earth materials that require blasting
Unclassified materials, topsoil, and muck
Fully equipped with the proper and latest equipment, no project is Earthworks Little Bay project is too big, too small or too complex for us. Our team has access to all the following equipment:
Bulldozers
Rollers
Graders
Dump Trucks
Dump
Back hoes
Excavators
Loaders
Diggers
Shovels
Efficiency and cost-savings are important parts of the process for our earthworks. We will reuse as much of the excavated materials. This helps in reducing waste material build-up and the need for additional earth materials. We make use of computer applications that calculate the exact amount of materials that need to be removed or added to complete your job.
Whatever the type and scale of your demolition or excavation project, we at Chomp Excavation & Demolition have the experience, expertise, resources, and licensing required to complete your project with precision, care, safety, and reliability.